Navigation
Users Online
Events
Follow us on Twitter!
Join us on facebook!
Login
Search this site
Custom Search
Shoutbox
You must login to post a message.
17/03/2018 21:26
Ladies - we should make more use of this website
14/07/2014 10:28
Can someone please put a link up to the IM draw
21/10/2013 14:33
Not sure Jenny, Gill is the person to ask as she is the Rep. Hoping the ladies still enter so we can get a team in 11s and hopefully 15s for 2014.
18/10/2013 13:12
How many ladies are entering the 2014 IM?
16/05/2013 22:20
Selection email have been sent.
02/05/2013 10:08
About And i will reschedule
02/05/2013 10:07
Girls the fundraiser I had organised is cancelled, fe other things happening on that day and I need to work as both my staff have decided to take holidays at the same time grrrrr can you all pass word
01/03/2013 21:13
I hope the tour doesnt go on that late Yvonne lol x
01/03/2013 16:44
11:00pm, car park outside red triangle cumbernauld!!!
22/02/2013 21:44
Time dat and venue gem for group hug?
Fundraising
Scottish Ladies Tour Event Three 2008
Saturday 30th August was the date for Event No 3 of the 2008 Blackball Ladies Pool Tour which was once again held in Pennies Bar, Falkirk.
Ladies Tour Event 3 winner, Sarah Trudgett, and runner-up Linda Gillies, right.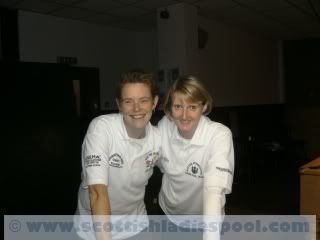 First Round
Scotland Ladies A team player, Netty Anderson had a tough opener against Inverness player Joanne McPherson, Joanne played extremely well to win this one by 6 frames to 2. Jackie Williamson and Louise Hillman was a match that went to the final frame with Jackie going through. England Ladies A team player and current European Ladies Singles Champion, Sarah Trudgett was up next against Katie Black, Sarah looked in fine form winning six frames without reply. Karlyn Coghill and Roda Young was another match that went to the wire with Karlyn coming through to secure her place in the next round.
Last 32
Amanda Cutt from Shetland played Joanne McPherson, with Amanda coming through by six frames to three. Jackie Williamson continued with a 6-5 victory over Carol Hunter. Sarah has played daughter (Katie Black) in the first round and this time was up against Kim (mum), who is a fantastic sponsor of Scotland Ladies. Sarah won this one by six frames to one. Jenny Lawson played well to secure a 6-3 victory over Sandra Bell. Lynsey Selkirk beat Karlyn Coghill by 6 frames to 3.
Last 16
Yvonne Ewing had a tough opponent in Amanda Cutt and this match swung one way then the other. Amanda had a chance to win the match but snookered herself on the black and Yvonne cleared up in the final frame decider. Linda Gillies saw of Scotland Ladies a team mate Gaynor McHaffie by 6 frames to 0. Claire Dempster progressed to the quarter finals by defeating Katie Paterson by the same score line. Jackie Williamson and Heather Stewart went to the wire with Jackie progressing to her first quarter final. Sarah Trudgett comtinued on her winning way with a hard fought 6-4 victory over Yvonne Saunders. Leanne Evans came through by 6 frames to 1 against Pauline Selkirk. Fiona Herd progressed to the quarter final with a 6-1 victory over Jenny Lawson and Elaine Campbell looked in fine form defeating Lynsey Selkirk by 6 frames to 0.
Quarter-Finals
The quarter finals put Yvonne Ewing against Linda Gillies. This match went to a final frame decider which Linda won to set up a semi final clash with Claire Dempster who defeated Jackie Williamson by six frames to two. Sarah Trudgett played some fantastic pool to defeat the EBA World Masters Champion, Leanne Evans by 6 frames to 2 and this set up a clash with Elaine Campbell (Event 1 & 2 winner) as she defeated Fiona Herd by 6 frames to 3.
Semi-Finals
Linda Gillies against Claire Dempster was a match that could have gone either way but once again Linda held her nerve and used her vast experience to progress to her second final in succession by winning the final frame. She was quickly joined by an in form Sarah Trudgett who put paid to "three in a row" for Elaine, coming through by 6 frames to 1.
Final
The final was played between two of the Worlds' best lady players. Scotland's Linda Gillies and England's Sarah Trudgett, whom in my opinion are two of the finest ambassadors of ladies pool ever to play the game. Between them these players have amassed an array of ladies singles titles including World, European and British Championships. It was a fantastic final which Sarah took control of and didn't look like relinquishing this lead. She came through to win by 6 frames to 3 and secure her first Scotland Ladies tour win, a fantastic achievement, especially as it was her first event. Well done to Sarah, brilliant
Another very successful tour event; played in fantastic spirit by all who attended. Thanks go to Davy Anderson and the staff at Pennies for hosting the event and I am sure we are all looking forward to the next event which is being held on Saturday 18th October, 2008 – see you all there
Post Comment
Please Login to Post a Comment.
Ratings
Rating is available to Members only.

Please login or register to vote.
---
No Ratings have been Posted.
Forum Threads Cloud
Super 11s 2013
,
Event 3 Qualifier
,
Reporter
,
IM1 Draw - Ladies
,
Questionnaires
,
Super 15s - Perticur Bay 25-27 November 2011
,
Ladies Tour - Event 3
,
IM1 Finals
,
World Championships Ladies qualifiers
,
Coaching
,
2010 Mixed Doubles
,
New ladies site
,
IM 1 Qualifier
,
Event 2 - 20th June, 2009
,
usernames